Our customized food restaurant takeaway paper boxes, designed especially for you.
With our free design service, we ensure that your packaging stands out.
Our boxes are made with eco-friendly materials, reflecting our commitment to sustainability.
In addition, our boxes are specially treated to be oil-resistant, ensuring that your delicious food stays intact and retains its flavor. Our aim is to provide you with the perfect packaging solution that not only protects your food but also enhances your brand image.
We understand that every food item is unique and requires specific packaging dimensions. That's why we offer customizable sizes to cater to your diverse food packaging needs. Whether it's a hearty burger, a delicate sushi roll, or a mouth-watering pizza, our boxes can be tailored to perfectly fit your culinary creations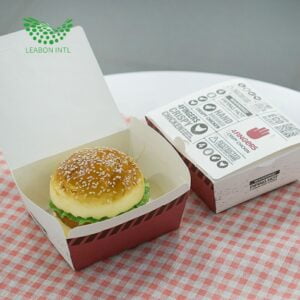 Not only do our boxes excel in functionality, but they are also visually appealing. Our design team will work closely with you to create eye-catching packaging that aligns with your brand identity. From vibrant colors to creative artwork, we will ensure that your boxes make a lasting impression on your customers.
But there's more! Aside from their practicality and aesthetics, our paper boxes are environmentally friendly. We use sustainable materials that have minimal impact on nature. By choosing our boxes, you are not only enhancing your business, but also contributing to a greener and healthier planet.
So why settle for generic packaging when you can have tailor-made boxes for your food restaurant? Contact us today to take advantage of our free design service and elevate your brand with our eco-friendly, oil-resistant, and customizable paper boxes.
Let's collaborate to create packaging that not only satisfies your food packaging needs but also leaves a lasting impression on your customers.